Touch Tanks:Flip Side 5(FS5) is the first Touch Tanks game.It has been removed from the App Store.The only way to get is is to install IPA files(via Jailbreak).
If you have the game,save it to iTunes,it is the only way to get it if you delete it.
Game cotents:
The game was similar to Touch Tanks Europe before the 4.0 uptate(check out the photos).
There were only 2 maps-Forest and Desert.The connection to online gameplay took about 20 seconds.
There were new tanks available and upgrades via In App Purchases.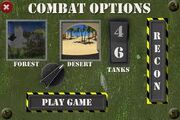 Ad blocker interference detected!
Wikia is a free-to-use site that makes money from advertising. We have a modified experience for viewers using ad blockers

Wikia is not accessible if you've made further modifications. Remove the custom ad blocker rule(s) and the page will load as expected.