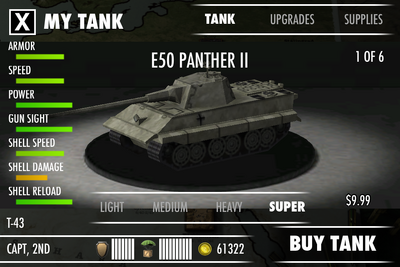 Super Tanks are the heaviest armour with the best statistics in the game. Customized tanks are actually modified super tanks.
These tanks have superior armor, Health points, speed and damage inflicted to every other tank in the game. The most worthwile Super Tanks are the E50 PANTHER II and IS-7.  
Super Tanks include:
E50 PANTHER II
SDKFZ E-100 TIGER MAUS
IS-7
T28
T-29
A.39 TORTOISE
You may use any combat for this tanks. Since they have superior speed and armor, it doesnt really matter whether you will camp or kill on your way.
Combined with a flamethrower or Super Missiles these tanks are real killers, and their mines inflictt 1/3 more damage.
Ad blocker interference detected!
Wikia is a free-to-use site that makes money from advertising. We have a modified experience for viewers using ad blockers

Wikia is not accessible if you've made further modifications. Remove the custom ad blocker rule(s) and the page will load as expected.